The Father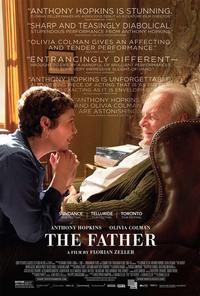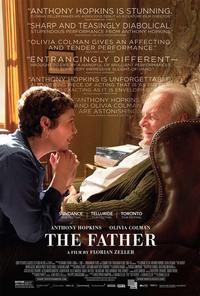 About
Anthony (Academy Award Winner, Anthony Hopkins) is 80, mischievous, living defiantly alone and rejecting the carers that his daughter, Anne (Academy Award and Golden Globe Winner, Olivia Colman), encouragingly introduces. Yet help is also becoming a necessity for Anne; she can't make daily visits anymore and Anthony's grip on reality is unraveling. As we experience the ebb and flow of his memory, how much of his own identity and past can Anthony cling to? How does Anne cope as she grieves the loss of her father, while he still lives and breathes before her? THE FATHER warmly embraces real life, through loving reflection upon the vibrant human condition; heart-breaking and uncompromisingly poignant -- a movie that nestles in the truth of our own lives.
Cast
Anthony Hopkins, Olivia Colman, Olivia Williams
Rating
---
---
Reviews
"The best film about the wages of aging since Amour eight years ago, THE FATHER takes a bracingly insightful, subtle and nuanced look at encroaching dementia and the toll it takes on those in close proximity to the afflicted."


- The Hollywood Reporter

"THE FATHER is about the suffering of old age, the importance of connection, the sick encroaching of an affliction, and ultimately, death. It doesn't sugarcoat things, despite its sugarcoated exterior. Like its French counterpart, Michael Haneke's Amour, it's not an easy watch, but it's a necessary one, a film that examines the very essence of our humanity."


- Film Threat

"THE FATHER is a chamber piece, but it has the artistic verve to keep twisting the reality it shows us without becoming a stunt."


- Variety
---
Awards
Golden Globes nominee
San Sebastián Int'l Film Festival
Mill Valley Film Festival
San Diego Film Critics Society Awards
Sunset Film Circle Awards
Los Angeles Film Critics Association Awards
Hawaii Film Critics Society
Florida Film Critics Circle Awards
Boston Society of Film Critics Awards
---
Festivals
Sundance Film Festival
Toronto Int'l Film Festival
Zurich Film Festival
Hamptons Int'l Film Festival
Woodstock Film Festival
Mill Valley Film Festival
Savannah Film and Video Festival
Tallinn Black Nights Film Festival
Göteborg Film Festival.