TODAY'S SHOWTIMES:
8:40p
FINAL DAY PLAYING AT LIVING ROOM:
TODAY (Jul 18)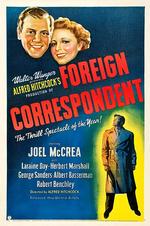 Johnny Jones is an action reporter on a New York newspaper. The editor appoints him European correspondent because he is fed up with the dry, reports he currently gets. Jones' first assignment is to get the inside story on a secret treaty agreed between two European countries by the famous diplomat, Mr. Van Meer. However things don't go to plan and Jones enlists the help of a young woman to help track down a group of spies.
Director:

Alfred Hitchcock

Country:

USA

Genre:

Drama | Thriller

Year:

1940
Run Time:

02:00:00

imdb Score:

7.6/10 (16,563 votes)

Language:

English, Dutch, Latvian

Rating:

PG
Cast:

Joel McCrea, Laraine Day, Herbert Marshall, George Sanders
"This film contains one of Hitchcock's most famous set pieces -- an assassination in the rain -- but otherwise remains a second-rate effort, as immensely enjoyable as it is."
Dave Kehr - CHICAGO READER
"Into it Director Alfred Hitchcock, whose unmistakable stamp the picture bears, has packed about as much romantic action, melodramatic hullabaloo, comical diversion and illusion of momentous consequence as the liveliest imagination could conceive."
Bosley Crowther - NEW YORK TIMES
"Hitchcock's espionage thriller is a thoroughly enjoyable affair, complete with some of his most memorable set pieces."
Geoff Andrew - TIME OUT
AWARDS
National Board of Review 1940
Top Ten Films