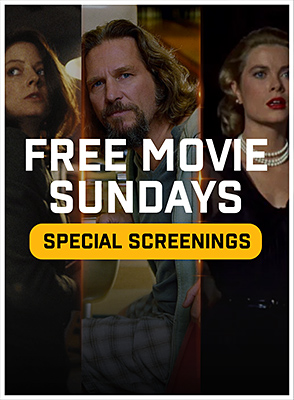 WATCH JUNE 11, JUNE 13 & JUNE 15
Free Movie Sundays | Next Film: REAR WINDOW
Calling all movie buffs and cinephiles! Introducing FREE MOVIE SUNDAYS, where cinema meets nostalgia. Embark on an epic journey through film history, with classic masterpieces and anniversary titles, all FREE every Sunday afternoon! We also have encore showings on Sunday, Tuesday, and Thursday evenings. This is your time to catch the unforgettable movies you may have missed in the theaters the way they were meant to be seen – on the BIG SCREEN! Secure your FREE tickets in-person at the Box Office.
THEATER DISCOUNTS
Save 15% on Advance Tickets & Sneak Preview Screenings!
Purchase your Advance Tickets for PAST LIVES, ASTEROID CITY, and BLUE JEAN. Showtimes are available for June 15 - June 25. Be One of the First to Watch THE FLASH, Thursday June 15 at 6:40pm.
Select Your Theater: