Showing :
Anatomy of a Fall
Dream Scenario
Killers of the Flower Moon
Napoleon
Saltburn
The Boy and the Heron (Dubbed)
The Holdovers
The Shift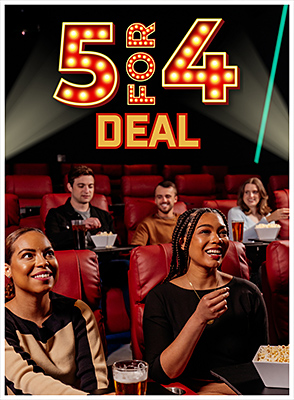 MOVIE TICKET PROMOTION
A Gift for You: Our New 5 FOR 4 DEAL!
Just in time for the Holidays, we are pleased to be offering you five tickets for the price of four! As a bonus, if you redeem your tickets online, we will waive the online booking fee for those 5 for 4 ticket redemptions. The tickets can be redeemed one at a time or all at once in any combination you choose up to the number of tickets remaining on your 5 for 4 voucher. You can purchase your 5 for 4 voucher online or in-person at the theater!
DEC. 8 & 9 AT 7:00PM AND DEC. 10 AT 2:30PM
Special Post-Screening Q&As with the Directors of DOWNWIND!
In the wake of Oppenheimer, DOWNWIND exposes the United States Government's 928 nuclear detonations from 1951-1992 at the Nevada Test Site and the ongoing impact of radioactive fallout on countless communities -- and the environment. After all 3 screenings, join us for a Q&A with co-directors Mark Shapiro and Douglas Brian Miller and Ian Zabarte, Principal Man of the Western Bands of the Shoshone Nation.
Select Your Theater: